Warby Parker Review (Warning) | Safe? Can it Damage Your Eyes ?
Are $95 Warby Parker Glasses for Real? Learn All You Need to Know in Warby Parker Review.
Just about anyone that wears glasses knows what it's like to take a trip to the optometrist and stand in front of a wall of frames having to pick out in minutes the ones that will become a part of your look for the next few years.
Wouldn't it be nice to be able to take some frames home, try them out for a few days with different outfits, and then as a bonus order your glasses at a cut rate?
That's the concept behind Warby Parker glasses. They offer a starting price of just $95, plus you can try frames on in the convenience of your home for free.
Warby Parker eyeglasses also have the benefit of giving back. For each pair bought, the company distributes a pair to someone in need.
Review of Warby Parker Glasses
Choosing a new frame is an essential part of your visit to the optometrist. And we all know how tedious it can be, having to choose your frame in the few minutes available during your consultation. The fact that your new glasses will be part of your life for at least two years (sometimes more) makes your choice all the more important.
In this review, we will look at Warby Parker Glasses.
Is $95 for a pair of Warby Parker Glasses realistic? Let's find out:
Taking a few frames to try out for a few would simply the matter of choosing the right frame for you, especially if you could get your new glasses at a handsome discount.
Well, that is precisely the deal with Warby Parker Glasses. They offer an entry level price of only $95, and let you take a variety of frames home to try out for free. And buying your glasses from them also helps someone in the community, since for each pair of glasses the sell, the company gives a pair of glasses free of charge to someone in need.
This is all well and good, but is this deal for real? Will I really only pay $95 for Warby Parker glasses?
Can you actually trust the quality of Warby Parker Glasses and -Sunglasses? Are Warby Parker prescriptions reliable? And will you really pay only $95?
What we are about to do, is find out if Warby Parker glasses are really worth the effort. What is the cost of these glasses really, is the company true to their word regarding the Warby Parker free home try-on and where can you go for the Warby Parker eye exams and –fittings?
We'll also let you know what actual existing customers have to say about Warby Parker sunglasses and –glasses. Are they of the opinion that the quality of the Warby Parker product range matches the quality of products provided by other eye-wear providing companies?
Want to know who the Warby Parker competitors are? We'll tell you who they are.
About the Company
The company behind Warby Parker reading glasses and prescription lenses was founded in 2010 and their headquarters are situated in New York City.
The idea was first sparked by the misfortune of one of the co-founders who lost his glasses on a backpacking trip and had to go without them for his first semester of grad school because replacing them was too expensive.
The founders determined that it would be possible to bring down costs by circumventing traditional channels by designing them in-house instead. And not only did this concept make the glasses more affordable; it also allows them to gift a pair of glasses to someone in need each one sold.
The company also opened their own "Optical Lab" in Sloatsburg, NY, to integrate eyeglass lens-finishing and assembly of frames.
Where did Warby Parker get their name?
The company's official name is actually JAND, Inc. Their brand name, Warby Parker, was inspired by the journals of author Jack Kerouac… two interesting characters were named Warby Pepper and Zagg Parker. The brand name Warby Parker was created by combining the first name of Warby Pepper and the last name of Zagg Parker.
How Does the Virtual Try-On Work?
The company did offer a Warby Parker virtual try-on, but it is no longer available. You may still measure your face and order the glasses, but not try them on virtually.
However, they do have a home try-on program available for free. You may choose from a selection of frames and have them shipped to your home where you can try them on to see how they look on you. Here's how it works:
Answer a few questions to narrow down your options;
Choose 5 frames, which are then shipped to you. Note that not all the frames on the Warby Parker range are available for a home try-on;
Keep them for 5 days, then mail them back;
The process is free, including shipping both ways;
You are required to supply your credit card data, which will be charged if you do not return the frames. Charges are $85.50 per each acetate frame and $130.50 per each titanium frame.
You will be allowed to do more than one Warby Parker frames try-on. However, please note that, but the second shipment will only be dispatched the first 5 frames have been returned.
Can I Only Buy Glasses Online?
The company has now added 74 physical locations across the U.S. and 2 in Canada. Warby Parker eye exams and -purchases on site are available at select retail locations.
To avoid a situation where glasses don't fit properly, fitting and adjusting can be done at these physical outlets, which is important.
Good to Know
If you are not located near one of the retail locations, you may get your Warby Parker prescription glasses fitted elsewhere within 30 days. Warby Parker will reimburse up to $50 of the cost.
3 Ways to Buy Warby Parker Eyeglasses
You can buy Warby Parker eyeglasses:
Online;
Via their mobile app;
At their retail outlets, where you can also get an eye examination.
Prices and Styles
Please remember that not all Warby Parker go at $95. Prices can vary quite a bit. For instance, if you want to avoid a thick "coke bottle" look, you'll pay around $30 to $130 more for high index (thinner) lenses depending upon the index.
You will also pay more for Titanium frames and combination frames than for pure Acetate frames.
We'll touch on Warby Parker prices, frames details and prescription types below. A full Warby Parker sunglasses review will also be provided.
Warby Parker Frames
Warby Parker frames come in a great variety of types and styles. They have well over 100 options as far as shapes and colors are concerned. You can choose from Acetate, metal or combined material frames.
Warby Parker reviews of frames are positive about the style, but some say they could be of a better quality.
Unlike other optical retailers, frames are not charged separately. Prices include the fame as well as the prescription lenses. This means that you can pick your favorite without being concerned that it will cost a ton more than another style.
Glasses
You may have read in Warby Parker reviews that someone was charged a lot more than $95 for a pair of glasses. That is as a result of price variations on prescription options. If you have a basic prescription and do not need high index lenses, Warby Parker prescription glasses can be an excellent deal that's hard to beat.
Retail Outlet Reviews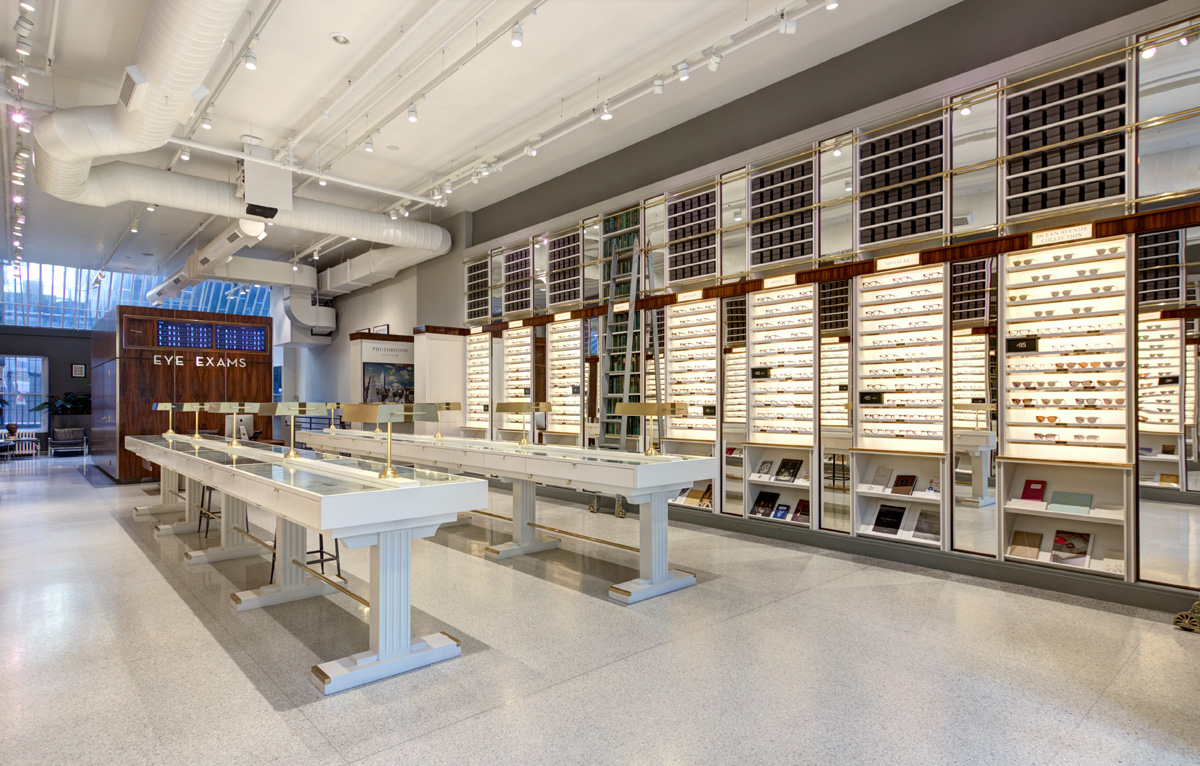 Wondering about the Warby Parker eye exams and the convenience of their retail outlets? Read the following reviews found online:
A first-time glasses wearer enjoyed the hip Houston store with "stress free" try-on process. They were able to use their vision insurance and the staff was friendly and helpful.
A few reviewers complained that their Warby Parker eye exam appointments at New York City locations were cancelled if they were just a few minutes late.
A dog owner said that her K9 babies were treated with a lot of love at the Warby Parker store and that the process was quick and efficient.
Conclusion
Warby Parker glasses have definitely encouraged more people to skip the visit to a local optometrist and opt for their home try-on and online buying model.
Bear in mind that you still need to visit your own optometrist or optician, or one of Warby Parker's physical locations either in the US or Canada, for an updated prescription.
We did not find any issues about the glasses damaging eyes. Main complaints were about the quality of Warby Parker frames that weren't particularly sturdy.
Overall, there were far more positive Warby Parker reviews and ratings online than negative. Here's a rundown of ratings on popular review sites:
Even though the Warby Parker virtual try-on has been discontinued, people find the "real" at home try-on very easy to use; they like the fact that they can actually see a frame on a person before buying it. You can also do more than one try-on to try more styles before you choose a frame.
Proper fitting is something you'll want to be aware of. Nearly all frames need to be fitted properly to your face. Warby Parker will reimburse up to $50 if you're not close enough to visit one of their physical locations for a fitting.
In our opinion, Warby Parker is a great option for affordable eyewear and a nice selection of fashionable frames. You also get to feel good, knowing that they will give a pair of glasses to someone in need when you buy yours, so you're helping others just by getting a pair of new glasses.
Julia Brucculieri is the Global Lifestyle Reporter for Huffington Post. She previously covered entertainment and celebrity & fashion news. She graduated from Carleton University (Ottawa, Canada). Julia is also a self-professed pop culture junkie, a lover of art history and doughnut enthusiast.