Best 10 Online Luxury Shopping Websites
Looking to be in trend with the latest luxury items, but you don't have time to visit designer boutiques around the globe? In an era dominated by online experiences, luxury shopping is moving from exclusive brick-and-mortar stores in fashion capitals such as New York and Paris to e-commerce websites. Most users visit online luxury websites to avoid crowds, save time, and savor vast collections from top designers.
As convenient as online luxury shopping sounds, it has its drawbacks. This includes wading through Google search results, the risk of cheap quality, and risky purchases. To mitigate these concerns, we've compiled a list of some of the best online shopping destinations for luxury fashion and beauty items. Read on for an in-depth analysis of some of the best online shopping websites.
1. Mytheresa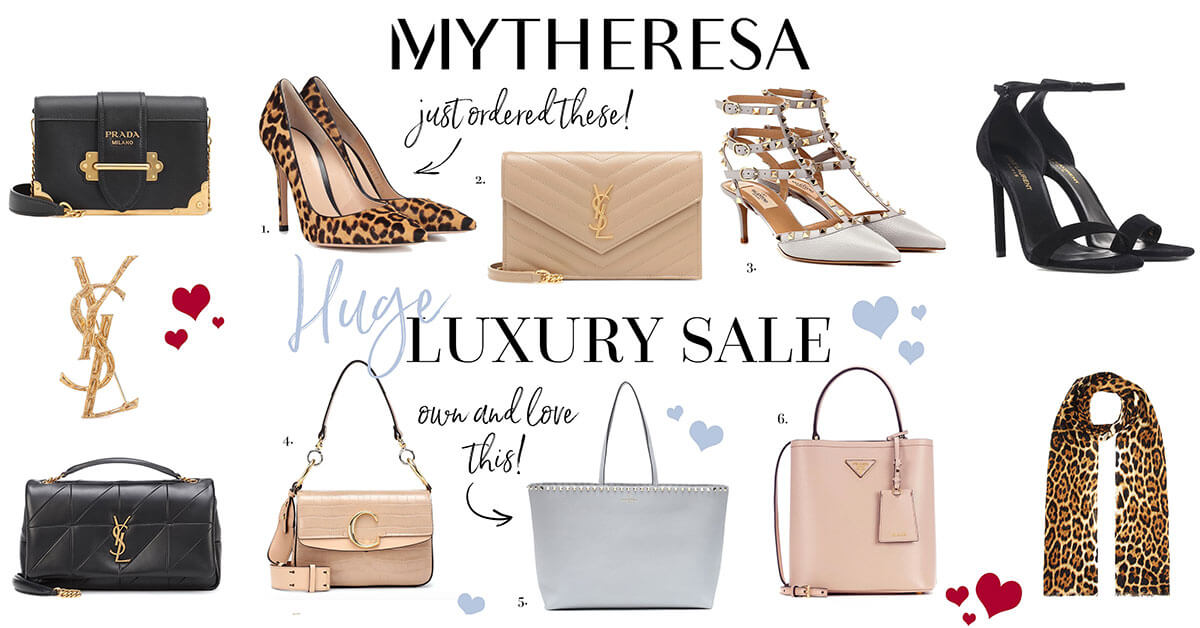 Modern, trendy, and elegant! Mytheresa is a Germany-based online luxury shopping website offering modern luxury apparel and accessories – with an edge. The giant retailer is where you go when looking for a seamless, safe, and amazing online shopping experience. They feature some of the most coveted designer finds, including Balenciaga and Valentino. In fact, Mytheresa has collaborations with hundreds of designers from around the globe.
Looking to have a scoop on the latest luxury fashion trends and exclusive items? Subscribe to their newsletter for emerging news and tips. As part of the luxury shopping experience, the website offers top-notch customer support, free returns, and express shipping to any country.
One of the most inspiring aspects of Mytheresa is its efforts to safeguard the security of the websites and its users. Specifically, it enforces technical measures such as a Secure Socket Layer (SSL) connection to prevent data leakages. They checkout process also utilizes 3D secure programs to ensure only registered cardholders and Mytheresa are involved in transactions.
2. Gilt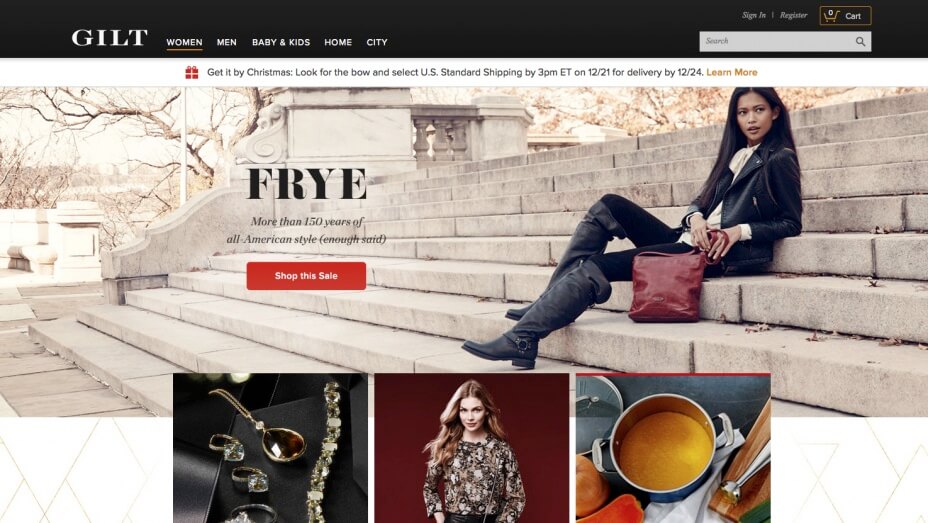 From plush bath towels to luxe accessories and clothing, Gilt is the site to quench your shopping desires. Although the New York-based online retailer was founded in 2007, it was recently acquired by Rue La La in a move to expand their combined reach (over 20 million registered customers).
Gilt is often considered the 'Grande dame' of special offers and flash sales online. Members can find discounts of up to 70% off on selected luxury accessories and apparel for men, women, kids, and luxury lifestyle experiences. The stock is updated daily with new additions that typically sell out quickly. Although Gilt is renowned for its flash sales, it also offers full-priced designer apparel and luxury items to users willing to splurge some cash.
Luxury and aesthetics go hand in hand – and Gilt understands this all too well. Their website is reminiscent of a luxury shopping experience thanks to the sleek design and color. In particular, the delicate combination of black and gold color schemes contribute immensely to the visual appeal of the shopping website.
3. Sephora
"We Belong to Something Beautiful." This tagline by Sephora encompasses its vision for an inclusive shopping experience. Launched in 1999, the luxury fashion e-commerce retailer has a competitive advantage thanks to decades of experience in online luxury shopping.
Are you a conservative buyer who prefers the sense of security that comes with brick-and-mortar stores? With Sephora, you can enjoy the perks of both worlds by shopping online and following up with the purchase in one of their physical stores. In fact, the luxury fashion retailer offers a find-in-store feature on their website that allows users to pick their items from a storefront rather than wait for the items to ship.
Sephora deals with a wide range of beauty items, including styling tools, hair care products, and cosmetics from coveted brands such as Dior, Stila, and Nars. The luxury shopping website is ideal for customers who like to play it safe when it comes to buying high-value items.
4. Shopbop
It doesn't matter if you're strapped for cash or you willing to spend a fortune on an exclusive designer item; Shopbop is your one-stop online luxury website. The e-commerce retailer offers both contemporary and high-end products to meet the needs of a diverse clientele. This is an online store whereby you can buy an affordable T-shirt alongside an expensive luxury bag.
Shopbop's vast selection includes trendy and timeless pieces for any occasion. Which luxury item are you looking for – bags, shoes, clothing, or accessories? Whatever your heart desires, it probably on Shopbop. Ulla Johnson, Jonathan Simkhai, Ganni, Zimmerman, and Rosetta Getty are some of the standout labels gracing the online luxury website.
Their website is sleek and designed to capture prospects, lead them down the sales funnels, and convert them into paying customers. How so? The first thing you'll notice when you visit their homepage is hard-to-ignore page header marketing special offers. Additionally, visitors are encouraged to subscribe to their newsletter if they want the first scoop on the latest offers and trending fashion.
Shopbop offers free shipping, which typically takes a maximum of three days. And if you own an Amazon Prime membership, shipment is delivered within two days for free. If for some reason you are not satisfied with your purchase, you can return the goods for free within the first 15 days – although the return policy is active for 30 days.
5. Farfetch
What makes Farfetch stand out from other online luxury websites? Or more importantly, how is the company making an impact in the fashion industry? The Farfetch online store is your go-to destination for all designer pieces and collection from small to famous labels and everything in between. But it's not just about cramming their selection with every 'Tom, Dick and Harry' of designer items.
Farfetch attempts to offer the fashion designer items in the most culturally inclusive way possible. The company believes that independent fashion boutiques originated from diverse cultures in Seattle, Riyadh, Bucharest, Milan, New York, and Paris. This diversity appealed to the perspective of buyers with different visions and unique styles. Farfetch follows a unique and forward-thinking approach to merchandising by promoting culturally diverse brands. The website features over 1,000 labels from around the globe.
Luxury shopping demands exquisite service – especially when it comes to the response rate. So whether you're buying designer items from a brick-and-mortar store or an online store, you want your needs to be addressed promptly. With this in mind, Farfetch maintains an impressive site speed to meet the expectations of luxury fashion customers – hence improving their conversion rates.
6. Mr Porter
Looking for exclusive designer fashion apparel and accessories? Or maybe some high-end grooming products? Well, Mr Porter is your one-stop-shop for fashion, grooming products, and even gifts. The online luxury website has an extensive collection of high-end pieces to meet the needs of the modern luxury shopper. Some of the standout labels available at Mr Porter include Incotex, Amiri, Prada, Officine Generale, and Tom Ford.
Their editorial page and 'trending now' section feature resourceful tips and tricks in fashion. This includes anything from how to dress for a dinner date to the importance of taking fashion risks. Another defining aspect of the website is its inclusion of informative video recommendations that relate to items in their selection. With video marketing being one of the most notable trends in the digital marketing industry, Mr Porter manages to attract and retain customers by entertaining and engaging them.
The online retailer offers express and standard delivery – with the latter being free on all purchases. If you are impatient to don your new attire and the 4-day delivery period of the standard shipping is too long, you can pay an extra $20 for the express shipping option. If you receive your goods and notice they're nothing like what you ordered or they've been damaged, Mr Porter gives you 28 days to return them.
7. Revolve
If you like to look unique by acquiring some of the most coveted luxury items, head over to Revolve! The California-based online store carries a wide selection of sought-after designer accessories and clothing for both men and women. According to their website, Revolve houses over 500 authentic luxury fashion brands, including Lovers + Friends, Tularosa, For Love and Lemons, and Free People.
Regardless of the amount you spend on the website, the company offers free shipping within 2 days – and based on user reviews, it's fast and efficient. They also have a user return policy that simple and top-notch. All you have to do pack the items, attach the shipping labels, drop it off at a UPS destination, and wait for a full refund within 30 days.
8. Yoox
When it comes to online luxury shopping, very few sites can afford to sit on the same table with Yoox. This company is arguably one of the largest online retailers, with a near-endless selection of luxury items. There are hundreds – if not thousands – of brands to choose from. Luckily, Yoox makes good use of intuitive filters to help customers wade through the vast collections. PS: Yoox merged with Net-a-Porter back in 2015, making it a dominant force in the online luxury retail market.
The best thing about the website is its navigation system. Shoppers can easily access relevant information in and around the site. Next time you're clicking around the website, consider checking out the exclusive limited-edition collections or the sustainable capsule line at YoOxygen.
Who loves discounts and special offers? Let's be honest: Regardless of how much cash you're willing to spend on a designer bag, most of us wouldn't mind a 20% markdown. If you're a luxury shopper on the hunt for a considerable discount, Yoox's vast catalog of luxury items from designer labels such as Prada and Alexander McQueen are available at pretty attractive prices.
If you are a trendy luxury shopper who's keen on the latest styles, Yoox is not for you. Most of their inventory is off-season – hence the highly discounted prices.
9. Barneys
Barney's is everything you'd expect of high-end online store – exclusive designer collaborations, impeccable curations, and focus on emerging talent. From a brick-and-mortar store based in New York, the company expanded its highly successful "Barney Warehouse" concept online. Basically, Barney's strategy involves selling a vast collection of designer brands at exclusive discounts.
The online luxury shop is ideal for the whole family with selection for men, women, children, and your home. They've also mastered the art of social media marketing to improve their brand image and reach out to a wide clientele. You'll find them in nearly every platform from YouTube, Snap Chat, Instagram, Pinterest, Twitter, to Facebook. We'd advise you to check out their editorial section known as 'The Window' for informative and well-written pieces to guide your purchase decision and fashion.
10. Selfridges
You probably already aware of Selfridges from their chain of high-end department stores distributed in different cities. The luxury store has built a reputation for reliability, top-notch customer service, and high-quality products. The Selfridges online store stocks on a wide range of designer brands such as Saint Laurent, Paul Smith, Reiss, Gucci, Burberry, and Alexander McQueen, to name a few.
Selfridges goes a step further to ensure your peace of mind when shopping with them by providing a detailed guide o how to contact merchants. In a nutshell, this is the website to visit f you want to reinvent your wardrobe without trawling through a truckload of websites.
Brittany Nims is a freelance staff writer at FashionPeriscope. Her work has appeared on the Huffington Post, among others. She spends most of her weekends in search of strong coffee and stronger Wi-Fi.